Getting ready to hit the road and get outside? You'll need to make sure you have the right gear for the trip, and we're here to help. Here's our list of products you can store on top of your roof rack to keep your trip organized, comfortable, and the best yet.
There are tons of stuff that you can keep on your roof rack, ranging from jerry cans to gas and storage boxes or bags. We'll go through them all to give you some ideas and tips.
Storage solutions
Gear cases
Keep organized and protect your gear from the elements with the Frontrunner Wolf Pack boxes. Stop messing around with temporary cargo carrying solutions. Get down to business with these clip-to-close, stackable and durable storage containers. We offer both the Frontrunner Wolf Pack and the Frontrunner Wolf Pack Pro on request only, feel free to contact us if you're interested in one of these bad boys.
Outdoor bags
We have multiple bag solutions available for you, all durable bags made to live on top of your roof even in bad weather.
Thule Chasm collection provides rugged bags, backpacks, travel bags, and duffels. Carry and protect all your favorite active gear in the right sized bag – from small to XL. Designed with weather-resistant tarpaulin fabric, plenty of storage, and smart storage pockets to easily locate smaller items.
ARB's Stormproof Bags come in three sizes and feature PU coated Oxford weave fabric and rubberised construction, with all seams heat sealed and taped to ensure high water resistance. A roll-up top closure and Sure Grip buckles means no zipper to contend with. Not only are they a great looking travel bag, they are also 'storm proof' so they can be loaded onto a roof rack or thrown into the back of a pick-up without the worry of your gear getting wet.
ARB Swag Bags provide outstanding protection against the elements, and are the perfect way to store your Skydome Swag. Like the storm bag, the Swag Bag features moulded rubber carry handles on either end along with a removable shoulder strap. Available in two sizes (small and large), it also features four adjustable tie down straps integrated into the bag to allow it to be secured to a roof rack without need for additional straps.
Handy essentials
Recovery boards
When in the backcountry, we all know that getting stuck is bound to happen. Carrying offroad recovery boards is essential to ensuring you can get out of sticky situations. ARB is one of the best recovery board brands on the market with their Tred Pro, and we stand by the MaxTrax recovery tracks.
Overland shovel
Just like recovery boards, having an overland shovel on board is a good choice for helping ensure your vehicle can easily get unstuck on backcountry terrain. One of our favorites is the Rhino Rack spade, a compact tool that allows quick storage and perfect for getting under bogged vehicles.
Survival axe
Apart from a survival knife, having a survival axe allows you an additional utility tool in the outdoors from cutting firewood to hampering down your tent stakes. We are big time fans of the Hi-Lift Handle All, this is a multi-functional tool with telescoping handle and 4 full-sized implements. Compact and rugged, while maintaining full-size utility.
Jerry cans & carriers
For most overland trips, there will not be an accessible gas station nearby to refuel. With this, it's important to plan ahead and determine how much extra fuel will be needed for your trip. But that's not the only good use for jerry cans, it's also important to have enough water available on your trips.
Gas bottle carrier
A fuel source is essential for every camping trip and an important consideration for overlanding trips. This convenient mount will store your LPG bottle outside of your vehicle in a secure location. Made for a wide range of bottles from 5-20 lbs, this bottle holder will safely carry your fuel source for a day trip or an extended weekend.
Tie down tips & tools
Tying down your load incorrectly can get you in trouble, it can cause an accident or damage your items. Before deciding on a product, consider the size, shape and weight of the load to be secured, below are some tips to help you safely secure your gear. To properly use your ratchet straps, thread the strap through the mandrel and then crank the ratchet to tighten. To release the strap, press the release tab and open the ratchet.
Safety tip: When using any type of strap, it is essential that you inspect the product for visible damage on the webbing, or other damage that could risk the strength of the strap. If your straps are weakened the working load limit could be jeopardized.
If you are looking for a low profile and easily adjustable load securing option to carry heavy loads on your roof rack, we recommend eye bolts! Eye bolts are one of our highest selling accessory and a must have for any overlanding adventure. Eye bolts are easy to install and move around on the pioneer, simply screw the bolt into a channel nut and use as a tie off point when securing your load.
It always pays to have a spare tire with you, both on and off the trail. The ARB BASE Rack Spare Tire Y Strap allows your spare to be securely mounted on your ARB BASE RACK System. With the 1″ wide polyester webbing straps and steel eye bolts, the ARB Spare Wheel Y Strap can handle most wheels from stock to larger off road wheels.
4 Tips to keep Your roof top load safe from thieves
It's an unsavory topic but thieves are everywhere so you need to know what you can do to slow them down, deter them and hopefully stop them from pillaging your vehicle's roof top cargo. Rhino-Rack offers a ton of accessories that come with locks, they even offer lockable straps, here are some good tips from them to keep your cargo safe at all times.
1. Position the lock on your strap to be up top of the load as it's harder for thieves to reach. 
2. The straps should be as tight as possible, without crushing your cargo. In this way you're creating less slack for thieves. If they are struggling to get a cutting tool under the straps then it's harder for them to slice. 
3. Make the load look solid like it's not going to budge. Which means no twist in the straps and hiding or strapping the loose ends this also helps reduce wind noise and the tapping of the straps on the roof of the car. Making your load look secure will deter most thieves as they try and find an easier target
4. Allow yourself time to set up your load carrying and securing correctly with the items listed above so you feel like you've done everything within your power.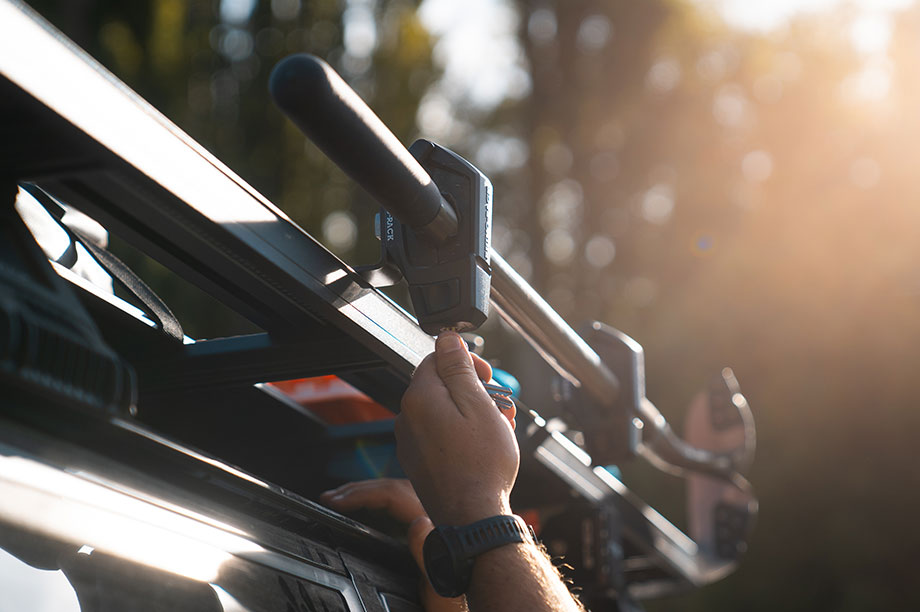 Some loading tips
Check the load rating of your vehicle and car roof rack: in order to safely store luggage on your roof rack it's important to first check how much weight your vehicle can handle, and that means knowing what your load rating is. Roof racks will have a different weight rating to your car, so be sure to check both and not go over the lower rating. To correctly pack your roof rack in Perth before leaving home, keep a weight list of each item you plan to put on the roof. Exceeding the load rating can increase the centre of gravity of your vehicle, making it unbalanced.
Pack the heaviest items in the car boot first: in order to avoid overloading your roof rack, the most practical way to pack your car is to put all the heaviest items in the boot. Start packing by fitting all the really weighty items into the boot, as your car will have a higher weight limit than the roof. All the larger, lighter items should be put aside to be packed onto the car roof rack.
Distribute the weight evenly: adding a roof rack to your vehicle raises the centre of gravity, and while this in itself will not add any immediate danger, packing items badly on roof racks can. It's important to distribute the weight of all items on the car roof rack, keeping the vehicle balanced and evenly weighted. Start by placing the heaviest items in the middle, then add items in a manner that equally distributes the weight to the left and right sides of your car.
Avoid packing essential items on the roof rack: there is nothing worse than realising the item you need is packed neatly away, right in the middle of a full car roof rack. They can be a pain to pack, and an even bigger pain to unpack! Place all valuables and frequently required items inside the vehicle before you leave Perth, like under the seats, for easy access during a trip.
Water and Dust Proof your items: with the wide range of additional accessories available today for your roof rack, there is no need to worry about exposing your belongings to the elements. A waterproof box or bag is a foolproof way to keep everything safe from the sometimes extreme Perth wind and rain. A quick fix method is to wrap your items in plastic bags, which would also keep them free from road dust and water damage.
Accessory roller: Many ARB and Rhino- Rack solutions are compatible with an accessory roller, which can assist in sliding heavier or longer loads onto the roof rack.